Online Training with Dr. Buddy Bell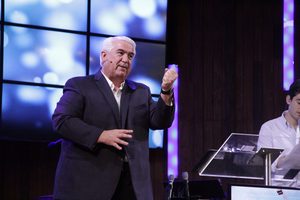 Over the years I have spoke with hundreds of Pastor's that have said, " I wish our church was big enough to get the training and quality of speakers that a big church gets".
Today's technology on the internet allowed me a few months ago to speak to a mens fellowship breakfast live. Many years ago before there was an internet the Lord told me I would be on the staff of hundreds of churches and I thought it would be only through books, CD's and videos.
Our ministry has such technology and now we are going to be able to fulfill another part of our vision to be able to personally help hundreds of churches around the world with there ministry of helps workers. I will be able to help train your volunteers and leadership thru our technology. You would ask "how"?
First you will need to be able to project the internet on your overhead screen with a broadband connection (DSL or Cable).
Second you will need to schedule a time for Dr. Bell to speak to your particular group which could be your ushers, your greeters, your ministry of helps or your leadership. To make it a more personal teaching and more effective time of training we ask that you supply at least 10 to 15 questions concerning the training that you desire for that particular session.
The sessions will be a length of 30 minutes (cost $300) or 60 minutes (cost $550). A normal expense cost for this type of meeting would be $35 per person with a 60 minimum ($2100), 2 plane tickets, hotel and meals. Total cost could be $3000.00 and up.
When you are ready to schedule a training session please fill out the form below as dates are limited for these trainings.
Have Dr. Bell say hello at your Helps banquets , men meetings, and leadership meetings or short intro to upcoming seminar with Dr. Bell.
Contact kathy@mohi.org or call 918-245-5768 to schedule or get more information.
Testimony:
Thank you so much for your service and ministry to our church.  We are thankful to God that He has placed you as a valuable ministry gift in the Body of Christ, helping multitudes of Christians and scores of pastors and churches.
Our church was blessed to hear your ministry a number of months ago.  A number of people mentioned how encouraged they were by your excellent teaching.  I was personally very glad to hear you; it helped me in my role of leadership in the church and providing more excellence in everything I do. God bless you; we declare good health and long life over you as you continue to minister around the world on the ministry of helps.
Peter D. Schalin
Living Word Christian Centre – Edmonton, Alberta, Canada